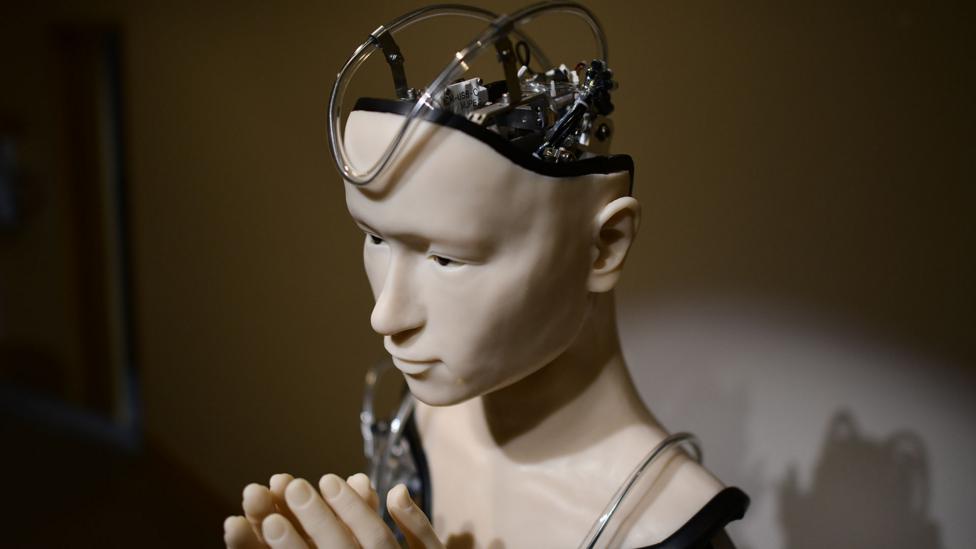 At a certain 400-year-old Buddhist temple, visitors can stroll through peaceful stone gardens, sit for a quiet cup of tea, and receive Buddhist teachings from an unusual priest: an android named Mindar. It has a serene face and neutral appearance, neither old nor young, male nor female. Beyond the realistic skin covering its head and upper torso, it looks unfinished and industrial, with exposed tubes and machinery. But Mindar is philosophically quite sophisticated, discoursing on an abstruse Buddhist text called the Heart Sutra.
If you had to figure out where you could find this robotic priest, you might need only one guess to conclude it's in Japan, at the beautiful Kodai-ji Temple in Kyoto. Japan has long been known as a nation that builds and bonds with humanoid robots more enthusiastically than any other. While this reputation is often exaggerated abroad – Japanese homes and businesses are not densely populated by androids, as hyperventilating headlines imply – there is something to it.
Everyday objects
Some observers of Japanese society say that the country's indigenous religion, Shinto, explains its fondness for robots. Shinto is a form of animism that attributes spirits, or kami, not only to humans but to animals, natural features like mountains, and even quotidien objects like pencils. "All things have a bit of soul," in the words of Bungen Oi, the head priest of a Buddhist temple that held funerals for robotic companion dogs.
According to this view, there is no categorical distinction between humans, animals, and objects, so it is not so strange for a robot to demonstrate human-like behaviours – it's just showing its particular kind of kami. "For Japanese, we can always see a deity inside an object," says Kohei Ogawa, Mindar's lead designer.
Japan's animism stands in contrast with the philosophical traditions of the West. Ancient Greeks were animistic in that they saw spirits in natural places like streams, but they thought of the human soul and mind as distinctly separate from and above the rest of nature.
The Abrahamic religions put humans on an even higher pedestal, as God's greatest creation, the only vessels containing immortal souls. Ancient Israelites were sternly warned against imputing too much specialness in objects, lest they verge into idol worship, a form of heresy expressly forbidden by the Ten Commandments. Some forms of Islam are especially averse to idolatry and prohibit creating even any images of humans or animals.
Don't mess with nature
According to the traditional Western view, a machine that acts like a person is violating natural boundaries, dangerously conflating the sacred and profane. This ethical warning shows up prominently in modern myths about technology, such as Frankenstein, which derives much of its moral message from the Bible, says Christopher Simons, a professor of comparative culture at the International Christian University in Tokyo.